Family of dead cyclist to sue Bristol council for £1.5m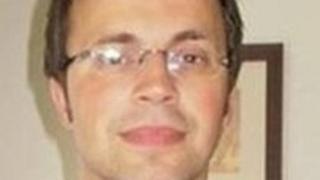 The family of a cyclist who fell from his bike and drowned in Bristol harbour are suing the council for £1.5m in compensation.
Father-of-two Sean Phillips, 40, was seen to suddenly lose balance on his mountain bike before plunging into the water in March 2013.
Lawyers acting for his wife and children claim there should have been "edge protection" on the harbour wall.
The council denies any fault.
An inquest in 2014 heard that the wheel on his bike may have become trapped in rails in front of the M Shed museum on Prince's Wharf.
Mr Phillips, who was born with fibular hemimelia, the same condition as athlete Oscar Pistorius, had been training for a 200-mile charity bike ride from Kent to Amsterdam.
Two members of the public jumped into the harbour to try to save him but despite "heroic efforts", he died at the scene.
London's High Court heard that his partner, Hayley Liddle, is seeking the claim due to safety concerns at the location.
Judge Veronique Buehrlen QC said: "This is a serious claim arising out of a serious tragedy.
"The claim has been valued at £1.1 to £1.5 million."
Lawyers for Ms Liddle said barriers should have been in place and warning signs were in the wrong position, too small and "easily missed".
The council is also being criticised for failing to carry out adequate assessments of the risks of members of the public falling into the harbour.
At a preliminary hearing Judge Buehrlen said the family could rely on evidence from an expert accident reconstruction engineer, despite concerns from council lawyers.
The council argued she was unqualified to pass judgment on the "adequacy of signage" or risk assessments.
But the judge said the expert's testimony would "assist the court" and could legally form part of the family's case.
The case will be heard in the autumn, but a date has not yet been fixed.
A Bristol council spokeswoman said: "We were deeply saddened by this tragic accident which took the life of Sean Phillips in 2014.
"Safety around the harbourside area is hugely important and we are continuing to work hard to balance the risks for all users."