Protest flare set off in Bristol City Council meeting by grieving mother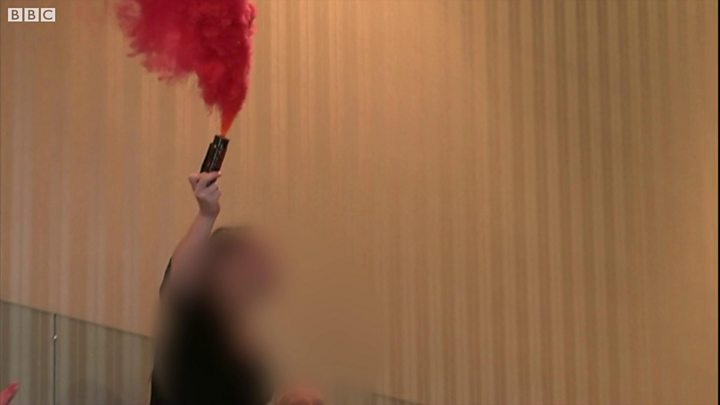 A flare has been set off by a protester during a council meeting filling the chamber with red smoke.
Bristol City Council halted the meeting to deal with the woman who claimed her daughter had killed herself after being "failed" by social services.
Councillors were forced to leave the chamber after the flare was set off in the public gallery at about 14:30 GMT.
They returned to the meeting to set the budget for 2018/19 just before 15:30.
---
At the scene: BBC West political editor, Paul Barltrop
Bristol council meetings often face protests - but never quite like this. Proceedings had already been interrupted several times by a group at the back of the public gallery.
Some regularly heckle councillors - but this time one very distressed woman took it further. She halted proceedings by shouting, then stunned the room by lifting her arm and pulling the trigger - to a red flare.
The reaction from many was concern - she talked of the suicide of her daughter.
So, with the meeting halted, some councillors came to talk to her, before she went off to meet the mayor in private.
---