Two Bristol strip clubs facing possible closure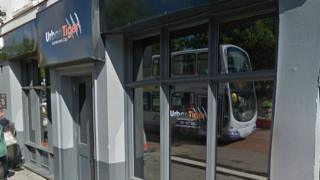 Two strip clubs in Bristol city centre could close after police decided not to support their licence renewals.
Bristol City Council is due to decide whether to renew sexual entertainment licences for Central Chambers and Urban Tiger.
Avon and Somerset Police said it believed they were "contrary to the family ethos which the city centre is trying to promote".
The clubs' owners, Carrie Hale and Robert Hale, declined to comment.
Both clubs have been facing mounting opposition. Urban Tiger has had eight objections to its licence renewal, including from Bristol Women's Voice which said it "promotes harmful attitudes towards women".
'Encourages assault'
Avon and Somerset Police also cited 11 incidents at the club and 40 "reported sexual offences" in the area over the past 12 months, and said it did not support the licence renewal.
Sue Mountstevens, Avon and Somerset's police and crime commissioner, said the presence of the clubs in the city encouraged sexual assault.
"The real issue is to do with equality and strip clubs - sex entertainment venues - they cultivate and they actively encourage objectification and this attitude of entitlement - which acts to reinforce gender inequality," she said.
"If we want to make a real difference in Bristol then I would ask Bristol City Council to have a nil-cap towards these clubs."
'Can't blame us'
But Sarah, who works at one of the clubs, said she did not see how the assaults "can be blamed on us".
"We've been there for 17 years now, so how can it be us that's causing these increases in sexual assaults?" she said.
"We do a job that we chose to do because we enjoy it and it pays well."
A decision is due to be made by Bristol City Council on Wednesday and Thursday.