Bristol students stage staff pensions strike occupation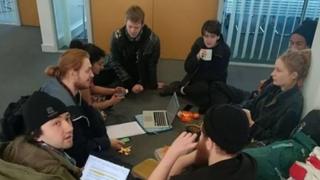 Students in Bristol are occupying part of the city's university to back staff in a national strike over pensions.
The group has staged the peaceful protest on the fifth floor of Senate House since 07:20 GMT.
They are demanding the university's vice-chancellor comes out in support of striking staff who claim they will lose up to £10,000 a year on their pensions.
The university said vice-chancellor Prof Hugh Brady will meet students later over the demands
The national dispute involves staff at 64 universities over plans by Universities UK to switch defined benefit scheme pensions - with guaranteed retirement income - to a defined contribution scheme, where pensions are subject to stock market fluctuations.
The protesters say they are committed to remaining in the building, which houses Prof Brady's office, until he addresses their demands.
Among the demands, students insist staff taking part in industrial action, but who are not striking, should not face losing 25% percent of their pay during the dispute.
'Safe and comfortable'
They have also urged for more transparency in university management and those taking part in the protest should not face disciplinary action.
Protester Luke Tyers said: "The attitude is shocking amongst management and we can no longer allow them to get away with ignoring the demands of the workers, with nothing but empty statements in response.
"We will force a free and open discussion where we push our demands openly onto Hugh Brady."
A university spokesman said it respected the right of students to "make their voice heard".
"We have welcomed the students to stay in Senate House where they are safe and comfortable, with access to kitchen and bathroom facilities, and have allowed them to hang banners from the building."
The spokesman said the university had made a commitment protesters can meet Mr Brady when he returns to campus later.