HMP Erlestoke riot: Prisoners' sentences increased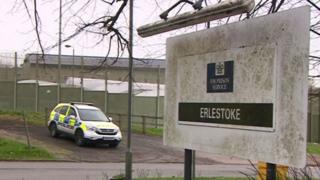 Three inmates who took part in a prison riot, partially sparked by a ban on smoking, have had three years added to their sentences.
Luke Needham, 30, Deno Harrison, 23, and Ben Sharratt, 27, were each handed the extra term after the disturbance at HMP Erlestoke in June 2016.
Needham and Harrison were found guilty of prison mutiny while Sharratt admitted the offence.
Winchester Crown Court heard it led to 120 prisoners having to be re-housed.
Their sentences will run consecutively to their current jail terms.
'Very unpopular move'
Rob Welling, prosecuting, told the trial tensions rose during the weekend after inmates were ordered to remain in their cells for a day because of a shortage of prison staff.
The problems began after a national prison smoking ban was trialled at the category C prison, he said.
"As you can imagine, it caused tensions to rise among prisoners as it was, frankly, a very unpopular move.
"And like other public bodies, the prison was short-staffed and if they couldn't safely supervise prisoners they would instruct a lockdown."
Mr Welling added Needham set fire to his cell and flooded it before kicking open the wooden door and helping other prisoners escape from their cells.
Needham and Harrison managed to get on to the rooftop and refused to come down until after midnight when a trained negotiator and back-up officers had arrived.
Fellow prisoner Andrew Alford, 41, was acquitted by the jury after being accused of breaking out of his cell on another wing.