Bristol councillor arrested after being wrongly identified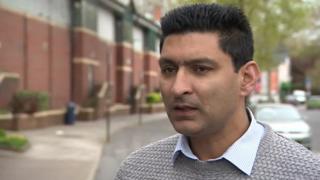 A councillor who was reporting a crime at his local police station was arrested by officers after being wrongly identified.
Afzal Shah was arrested "for making threats" after walking into a Bristol police station two weeks ago, the Bristol Post reported.
The Labour councillor said he was "gobsmacked" when he was arrested and "frog-marched" out to a police car.
Avon and Somerset Police said it had been an incorrect identification.
Mr Shah, who represents Easton on Bristol City Council and is on the police and crime panel, said he was at Trinity Road police station to make a report on behalf of somebody who was "too terrified to attend themselves".
He told the BBC that the front desk staff were "dismissive" and when he asked to speak to a senior officer he was transferred to a private room.
Mr Shah added: "I was in that room for 35 minutes and then the door opened and I was told I was being arrested, apparently for making threats.
"I was absolutely gobsmacked. They frog-marched me out to the car - despite my protestations - and I was held for about 10 minutes before I was de-arrested."
You may also be interested in:
Supt Andy Bennett said officers had "acted in good faith" in arresting Mr Shah, who is seeking legal advice.
"Another man who was in the station reporting an offence visually identified him as one of the people involved," he said.
"This identification was later found to be incorrect and Mr Shah was released without having been taken to a custody unit."
He added the force had apologised to Mr Shah for the "distress and embarrassment this incident has clearly caused him" and had welcomed the "opportunity to clarify this publicly".