Colston Hall: Council to underwrite venue revamp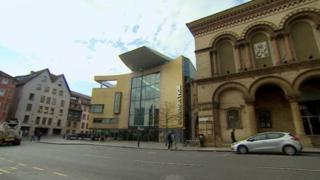 Bristol City Council is to underwrite the £49m redevelopment of the Colston Hall concert venue, despite calls to delay the decision.
The council, which is already providing £10m of funding for the scheme, is now putting a further £12m aside in case additional fundraising is unsuccessful.
Critics said the project represented a risk to taxpayers and to the council.
But Mayor Marvin Rees and deputy Craig Cheney agreed the proposals, saying they had already been scrutinised.
Green councillor Clive Stevens said the authority had a history of overspending on large projects and raised concerns that council-tax payers could end up footing an even bigger bill for the internal revamp.
But, at the cabinet meeting on Tuesday evening, Labour deputy mayor Mr Cheney said: "We took the decision to go ahead with this project in July last year. This decision is just to progress with the procurement of the contract. When we took the decision we did commission a review to make sure it was best value for money."
Colston Hall is owned by the city council and run by the charity Bristol Music Trust.
The report considered by councillors said the authority would be committed to underwriting the capital project in full but the risk was mitigated by the trust being contractually obliged to continue fundraising until all the money had been raised.
Funds have already been pledged by the Heritage Lottery Fund and Arts Council England.
The council decision will also allow the authority appoint a contractor for the redevelopment work and agree a 99-year lease for the hall.