First female bishop appointed to Bristol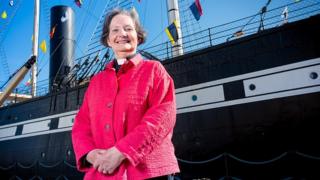 A new bishop selected for Bristol will become the first woman to take on the role in the city.
The Very Reverend Vivienne Faull will become the 57th Bishop of Bristol after being appointed by Her Majesty the Queen.
The current Dean of York will be consecrated bishop at a service at St Paul's Cathedral on 3 July.
She said: "This is where my family comes from, and so coming here feels like I am returning home.
"It was 24 years ago that Bristol was the first diocese to ordain women as priests, and I want the diocese to continue to show that pioneering courage.
"I look forward to leading a church that shows the love of Christ to everyone, whoever they are."
The Archbishop of York, the Most Reverend John Sentamu, said Dean Faull "leads by following Jesus' way with insight and oversight, with a readiness to be led as well as to lead".
Her appointment brings the number of female bishops in the Church of England to 15.
She will be installed at Bristol Cathedral in the autumn.
Her appointment follows the retirement of the Right Reverend Mike Hill in September 2017.