Scott's granddaughter speaks about Antarctic journey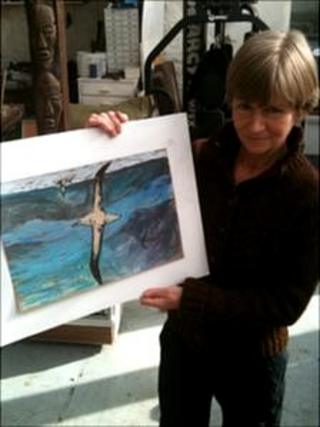 Captain Scott's granddaughter says she is humbled by the explorer's achievements and bravery.
The artist Dafila Scott was speaking on her return from a month aboard HMS Scott in Antarctica.
She said: "They really did an awful lot with rather little. They endured extraordinary hardships and didn't have the technology that we have now."
Ms Scott was in Antarctica as the Friends of the Scott Polar Research Institute's artist in residence.
The Scott Polar Research Institute is part of Cambridge University and is the oldest international centre for polar research within a university.
The scientific data collected by Captain Scott's expeditions is useful for understanding climate change.
Ms Scott said: "What they achieved was a near first because, although my grandfather didn't get to the pole first, he set up a lot of scientific work that's still used today."
She is best known as a landscape artist, but her first career was as a zoologist.
Ms Scott's journey marked the 100th anniversary of Captain Robert Falcon Scott setting out on his fatal expedition to conquer the South Pole.
"I had a very wide brief and I could draw anything I wanted to," she said.
"I was keen to show both the fascination and the excitement of the place, and also to draw attention to the collaboration that goes on there, because there is amazing international collaboration all in the name of science."
While Ms Scott spent most of her time aboard HMS Scott, she was able to make seven trips to shore.
She visited the Russian, Korean, Chinese, Chilean and British Antarctic research stations as well as two penguin colonies.
Ms Scott explained: "I was able to sit in a penguin colony and draw. They really don't mind people, because they've rarely seen them.
"But mostly I was on the ship looking and drawing, drawing, drawing."
She filled three notebooks with sketches, as well as completing a dozen small pastel and oil paintings.
"It's an incredibly exciting place and you can see the raw forces of nature," she said.
"The wind sculpts the ice and the snow into these stunning abstract shapes.
"I can see why my grandfather's team got so excited about it. Everything is so big and it's so extreme."