Scotty's Little Soldiers: Charity for bereaved children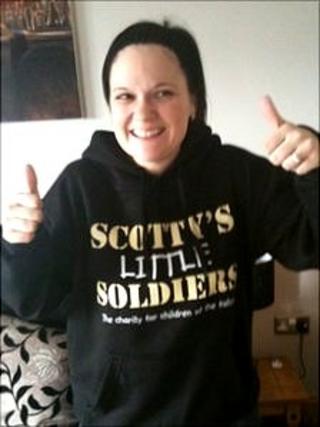 It was a family holiday that inspired Cpl Lee Scott's widow Nichola to set up a charity for the children of fallen armed forces personnel.
"When I went on holiday with my cousins, my son Kai started smiling and laughing, and I hadn't seen that for so long," she said from her Wisbech home.
Mrs Scott has now established Scotty's Little Soldiers to offer treats and holidays to children like hers.
Lee "Scotty" Scott, 26, was killed by a roadside bomb in Afghanistan in 2009.
"You never think it's going to be yours," she said. "You never think you're going to be that affected.
"It's so surreal. It still doesn't feel right. It's like he's still on tour."
She paid tribute to her husband as a committed father as well as a dedicated commander.
The charity's name was inspired by the bond between father and son, because Cpl Scott always called Kai his little soldier.
Holiday homes
Mrs Scott is now living in Wisbech with their children, two-year-old Brooke and Kai, six.
The couple's families come from the King's Lynn area and she moved to north Cambridgeshire for family support after she was widowed.
She set up the charity in August 2010 and has been astonished by the support she has already received. In seven months she has raised £50,000.
"It's really early days so we're not quite there yet, but we're planning to send out Scotty Packs to all the kids who become a member, with loads of goodies inside," she said.
"And then we want to be able to send them on trips and to send them birthday and Christmas gifts."
In the long term Mrs Scott hopes to raise enough money to buy holiday homes in the UK so families can enjoy a free break together.
Setting up Scotty's Little Soldiers has also helped her son.
"We've had fun days together, and Kai says, 'Mummy works at Scotty's Little Soldiers and they help children like me smile'," she explained.
The children of men and women killed in action from all three of Britain's armed forces will be able to apply to the charity for help, and families will be told about its work through their visiting officer.