Julian Assange talks to Cambridge Union Society students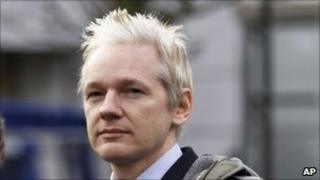 The founder of Wikileaks Julian Assange has given a talk to university students in Cambridge.
Mr Assange, who is fighting attempts to extradite him to Sweden - where he is accused of sex offences - addressed students at the Cambridge Union.
Student organisers barred journalists from the event, saying the union was a private members' club.
Magistrates ruled in February that Mr Assange should be extradited but he has lodged an appeal and remains on bail.
One of his bail conditions is that Mr Assange, 39, lives at Ellingham Hall - a 10-bedroom property set on 600 acres of land near Bungay on the Norfolk-Suffolk border.
Cambridge Union president Lauren Davidson said: "We create intimate settings and many speakers accept our invitations on the basis that they can speak frankly and personally to a contained group of union members.
"A lack of press presence is our default position, as opposed to the other way around."