Counterfeit designer clothes donated to charities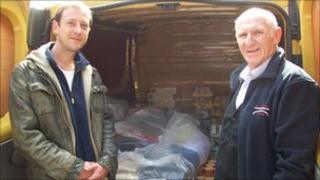 More than £10,000 of counterfeit clothing has been handed over to homeless charities in Cambridgeshire.
The items, seized by Cambridgeshire County Council Trading Standards, were given to Jimmy's Night Shelter and Paine's Mill.
Fake designer labels were removed by His Church Charity and replaced with its own logo so that they could be distributed legally in the UK.
Food donated by manufacturers was also given to the charities.
Richard Humphrey, senior co-ordinator at His Church, explained: "Once we have rebranded the clothing it legally becomes our property. We then work with trading standards to find really worthwhile organisations that look after vulnerable people.
"We actually use the embroidery machines that have been seized by police from counterfeiters - those same machines that were used to produce the fake goods in the first place."
He said that a gift of new clothing was one small step towards restoring a homeless person's dignity.
Henry Brown, chief executive of Jimmy's Night Shelter in Cambridge, said: "We find that people mostly leave home with nothing and arrive with nothing.
"But when we're able to offer them something brand new, of quality, it does inject a whole sense of self-worth and self-esteem to the individual."