4 Men and a Sofa release charity single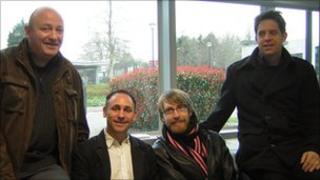 Four ministers who set up a church on a sofa in a Cambridge shopping centre have released a record for charity.
4 Men and a Sofa are from different denominations, but come together once a month "to take the church outside of its walls and into the community".
They have now released a version of Amazing Grace through iTunes.
Money raised from the sale of the single will be given to specialist hospital baby units in Glasgow, Bournemouth, Cardiff and Cambridge.
"Oddly enough, if you join these four areas up with vertical and horizontal lines it puts a cross across the whole UK," Jason Balbirnie said.
'Sofa sermons'
Together with Joey Rozek, Peter Prescott and Andy Henman, Mr Balbirnie makes up 4 Men and a Sofa.
Their single, "Amazing Grace with a modern twist", was released on 30 March.
"We love that song. It's about God's forgiveness breaking into the world.
"That's what we're motivated by. We've encountered a God who forgives, and gives a fresh chance through faith in what Jesus did," said Mr Balbirnie.
He said that he hoped the record would be as popular as the group's monthly "sofa sermons" have become.
"We had around 500 people come and sit with us last time we were out," Mr Balbirnie explained.
"We basically set up a portable lounge with sofas and a coffee table, and invite people to have a chat over a hot drink.
"Most have asked us to pray for them, or a given life situation that they, or a loved one, find themselves in."
"'Pick up thy sofa and talk' is our message."