Memorial crucifix unveiled for soldier Andrew Fentiman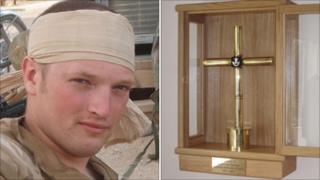 A memorial to a soldier killed in Afghanistan has been presented to his former rugby club.
TA Rifleman Andrew Ian Fentiman, 23, of 7th Battalion The Rifles died on 15 November 2009, after being shot while on foot patrol in Helmand Province.
Mr Fentiman's parents presented the memorial to Cambridge Rugby Club where he was a member from 1993 to 2004.
The crucifix contains the shells from the salute when Mr Fentiman's body was repatriated.
The memorial was made by friends of Mr Fentiman, Neil and Jeremy Cook, and was presented to the club as part of a fund-raising day in aid of Help for Heroes.
His mother, Lynda Fentiman said: "It has been a wonderful day and we feel that Andrew's memory has been honoured."
She also praised the work of the British Legion, one of the charities supported by Help for Heroes.
"They helped us a lot when we lost Andrew and this is a way for us to give something back from what has been such a terrible tragedy for us," she said.
Club chairman Steve Bowller said the crucifix would be placed in the entrance to the clubhouse as a reminder not only of Mr Fentiman's days as a player, but of what he had done for his country.