Redundancy cash boost for community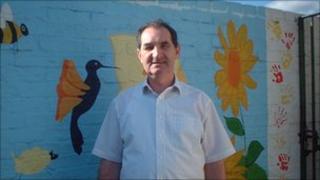 An unemployed man who sunk his redundancy money into a youth service for his village has turned it into a thriving social enterprise.
Phil Malkin's initial vision for Young People Littleport (YPL) has changed and now embraces all ages.
Four years on and YPL is turning over £2,000 a week from its many enterprises and is entirely self-sufficient.
At a time when public money for community services is being cut, Mr Malkin plans to expand his operation.
"What we've done is put the wheels in motion and it's picking up momentum," he explained.
YPL is based in an old medical centre in the east Cambridgeshire village of Littleport.
Having taken over the derelict building, Mr Malkin and his wife Elaine knew they had to find uses for it during the day.
They also needed to generate income because to begin with they were subsidising its running costs out of the redundancy money.
"The rent on this place when we first took it on was about £2,000 a month," said Mr Malkin. "And our income from running the youth club was about £120 a week, so we did have to prop it up for some time."
Volunteer-run
It is now home to a tea shop, a charity shop, a used furniture warehouse, has a well-used computer room, and function rooms available for rent.
There is also a permanent radio-controlled car track and plans to build music and media studios.
The tea shop and regular bingo nights are popular with Littleport's retired residents, like John Buckingham who celebrated his 100th birthday there in February.
These volunteer-run enterprises bring in the income needed to fund YPL's services.
This means the organisers only need to apply for grants for specific projects which add value to its core services.