Cambridge taxis show video in bid to catch sex attacker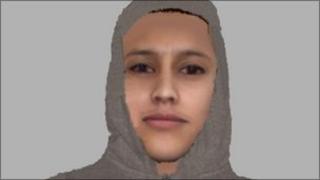 Taxis in Cambridge will show a police video featuring an e-fit of a man officers think is responsible for a string of sex attacks.
Detectives are investigating eight assaults they think were carried out by the same man between August and March.
Officers have worked with taxi advertising firm Yellow Light Media to produce an 11-second video to be shown on screens in the back of 32 vehicles.
The film will run for a month and could be seen by up to 40,000 passengers.
Operation Majesty has already used posters, leaflets, a Facebook page and Facebook advertisement in a bid to catch the offender.
'Breakthrough' hope
The crime prevention charity, Crimestoppers has offered a £5,000 reward for information leading to his conviction.
Det Sgt Phil Priestley said: "We believe the e-fit is a very good likeness of the offender and are exploring every avenue to reach someone who knows who he is.
"We're very grateful to Yellow Light Media who are assisting the investigation with this video advertisement and hopefully it will give us the breakthrough we've been waiting for."
Police have eliminated more than 100 men from the inquiry so far.
The offender is described as white, between 20 and 30 years old, 5ft 10in to 6 ft (1.78m to 1.83m) and physically strong.
He has short dark hair, stubble and wears a black jacket over a grey hooded jumper - which may have a number three on the back.
Most of the assaults have happened in the Newnham area of the city.
The attacker rides up on a bicycle, grabs his victim and then rides off if they struggle or scream.