The plans for Cambridge's new synagogue are approved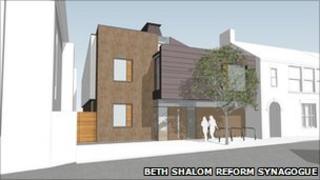 The plans for Cambridge's first purpose-built synagogue have been approved by Cambridge City Council.
Last year the Beth Shalom Reform Synagogue finally secured a site for a permanent base after a 20-year search.
"It's a modern design which is trying to fit in with a Victorian row of houses and a very modern block of flats," said Frank Harris, chairman of the synagogue's building committees
He hopes the congregation can move in some time in 2013.
"Internally there will be a feeling of light and of a good place to go and worship," he continued.
"So it will be very bright and the walls will be light. It's there to give a feeling of peace and tranquillity."
The £1.7m plans include a synagogue hall for 200 people, a library, a community room, disabled parking and bike racks.
Nomadic existence
Beth Shalom Reform Synagogue was founded in 1981 and now has the largest congregation in East Anglia.
Over 250 adults regularly attend and there is a thriving youth programme.
But over the years it has had a nomadic existence, moving between rented and borrowed accommodation.
Last year it bought a plot on Aukland Road in central Cambridge and commissioned Whittlesford architects Cowper Griffith to draw up plans.
A condition of the purchase was that the access across the site to Midsummer Common would be maintained.
"There are gates on both ends [of the synagogue]," said Mr Harris. "But they will be open gates, not locked."
The latest CCTV technology and infrared lights will provide security for the site.