New war memorial designs for Peterborough go on display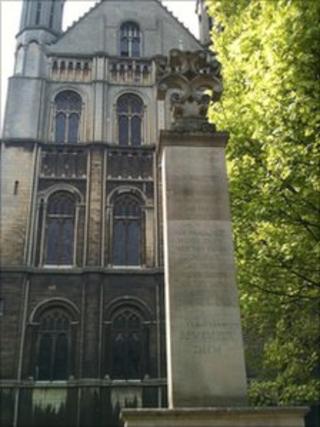 Plans to build a new war memorial for Peterborough are a step closer.
Designs submitted by architects and sculptors are on display at St John's Church in the centre of the city.
Councillor Irene Walsh, chair of the Peterborough war memorial steering group, urged residents to get involved and share their preferences.
The current monument is tucked away behind the cathedral, and the city's veterans and council want a new memorial in a more prominent position.
A shortlist of five designs has been chosen and the winning entry will be erected in Bridge Street near the Town Hall.
It will become the focus of the city's Armistice Day commemorations.
War Memorial Hospital
Unlike most places in the UK, Peterborough did not erect a monument to its war dead after World War I.
"A lot of companies came together and raised money, but they wanted the memorial to be practical," explained Peter Lee, chairman of Peterborough Civic Society.
Sufficient funds were raised to build the War Memorial Hospital on Midland Road, which was opened in the late 1920s.
This is still the city's official war memorial, although the names of all those from Peterborough who died in both the world wars are also listed in the Sprite Chapel in Peterborough Cathedral.
In the 1980s there was a war memorial in Bridge Street, but the simple limestone block became the target of graffiti and was dismantled.
Following this a memorial was erected in the Cathedral Precincts, and is the focus of the annual Armistice Day commemorations.
However, it is surrounded by gravestones and difficult to access, so the city council is working with the Peterborough Veterans' Association and the Royal British Legion to build a new memorial in Bridge Street.
It is expected to cost in the region of £45,000, and a fund-raising campaign is under way.
Ray Preston, chairman of Peterborough Veterans' Association, said: "It would be fantastic to see a new war memorial in place for Armistice Day 2012."