Firm's aircraft deal secures 1,600 jobs in Cambridge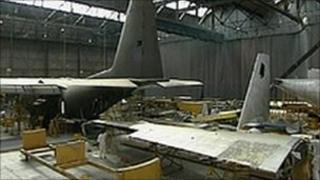 A £100m contract spread over 15 years has helped secure the jobs of more than 1,600 designers, engineers, technicians and aerospace specialists in Cambridge.
Marshall Aerospace is to provide aircraft body fuel tanks to extend the range of 179 aircraft being built by Boeing for the United States Air Force.
The new aircraft are part of the American force's fuel tanker fleet.
"We are now looking forward to starting the detailed work," Steve Fitz-Gerald, from Marshall Aerospace, said.
Marshall Aerospace employs more than 1,600 workers at Cambridge.
The firm's body fuel tanks will be designed to enhance tanker aircraft flight range and refuelling capability.
"The initial contract will be for the design, certification and manufacture of an initial batch of development tanks.
"It is expected that production orders will follow for more than 650 tanks for the United States Air Force over a 15-year period.
"The potential value of this programme to Marshall Aerospace is expected to exceed £100m over the duration of the programme."