Revisit the BBC's 1986 Domesday project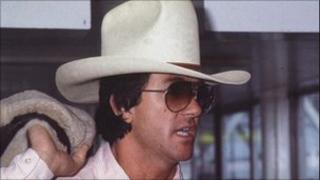 In 1986 the BBC launched an ambitious project to record a snapshot of life across the UK for future generations.
One million people took part in BBC Domesday, sending in photographs and articles about where they lived.
Now, 25 years on, people in Cambridgeshire can explore this material on a new web page and are being asked to update it.
It is your chance to discover how the landscape of your village, town or city has changed over the years.
And updating the information could leave a legacy for future generations.
Domesday in Cambridgeshire
Cambridgeshire residents who took part 25 years ago included children from Caldecote Primary School.
Lorna Rogers, 10, listed the names of the 21 members of her extended family who lived in or around the village, which is just west of Cambridge.
The Kingsbury family filled in a questionnaire, which revealed that their six-year-old son Patrick's ambition was to be a millionaire when he grew up.
In Hardwick four bedroom houses were for sale for around £46,000. Today it is hard to find a similar sized property under £280,000.
And in the south Cambridgeshire village of Comberton it was noted that a science teacher at the village college had recently appeared on the BBC's Beat the Teacher quiz show.
Mr Wallin was crowned Champion of Champions.
Domesday Reloaded
The BBC Domesday project was one of the most pioneering interactive campaigns of its time.
To mark the 900th anniversary of the Domesday Book, the public were asked to help compile a digital snapshot of where they lived.
Over a million people, mainly school children, took part in the initiative.
They surveyed over 108,000 square km of the UK, submitted 147,819 pages of articles and 23,225 photos.
The data was digitally etched onto two laser discs.
But technology was changing rapidly and the costs of running the project escalated so it fell into disuse.
Now the rarely-seen community disc archive has been republished onto a dedicated website, Domesday Reloaded.
You can log on to find out more information and to update details from 16 May 2011.