Social care in Peterborough set for 7.3% budget cut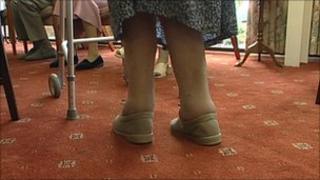 Peterborough City Council is planning to cut its social care budget by an estimated 7.3%, a BBC survey suggests.
The Conservative-controlled unitary authority said it planned to reduce its spending on social care from £69.6m in 2010/11 to £64.5m in 2011/12.
The council said a range of measures had been approved in its budget, such as reviewing its day centre services.
The Council Spending: Making it Clear survey looked at the planned expenditure of 76% of English councils.
Peterborough City Council, which saw its annual government grant cut by £15m in the Spending Review, has approved cuts to public services totalling £75m over the next five years.
Its council tax rises have been frozen at 2.5% in line with a Conservative election pledge.
It approved cutting children's services by 10% over five years by measures such as reviewing its children's homes and play centre provision.
'Real difference'
It is also finding about £2m savings a year in adult social care.
The council said it hoped to make "significant savings" by its investment in re-ablement services, which is temporary home care to help people regain independence.
A spokesman said day centre services for older people and residents with learning disabilities would be reviewed and it would "look to only continue those services that are making a real difference to improving those people's lives".
Day centres were expensive and "increasingly not the sort of services people choose", he added.
Also, Cambridgeshire County Council said it was making savings through re-ablement and rehabilitation in a bid to reduce people's reliance on care services.
It is also aiming to prevent people with "emerging vulnerabilities" from needing "the most expensive services".
The Conservative-run council, which must save £160m over five years, has also asked all its service providers, such as day centres, to make savings of 3%.
The BBC survey suggests the council will spend £6.8% more on adult social care this year, but Rod Craig, executive director of community and adult services, said when grants were deducted, there was a spending fall of about £191m to £182m this year.
The BBC research suggested there was a North-South divide in spending on social care in England following the Spending Review.
Adult social care spending will fall by an estimated 4.7% to £3.4bn in the North in 2011/12 and rise by 2.7% to £3.33bn in the South, it suggested.
A total of 268 out of 353 councils replied to questions about their budgets.