Blue tits make nest in a Cambridgeshire ashtray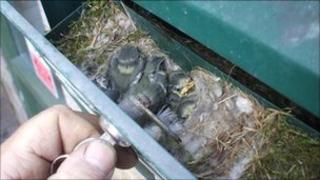 Smokers outside a community centre have had to find somewhere else to stub out their cigarettes after blue tits made a nest in a wall-mounted ashtray.
Staff from Brampton Parish Council in Cambridgeshire noticed the birds taking an interest in the ashtray in April.
When they discovered a nest inside, they took the decision to move it higher up the wall, in the hope that the birds would return and breed.
The ashtray is now home to four blue tit chicks and their parents.
Parish council clerk, Janet Innes-Clarke, said the discovery of a nest in an ashtray outside the Memorial Centre door "caused some dilemma".
She said: "We didn't want to disturb it, but after discussion with the Wildlife Trust and other bird enthusiasts, we decided to re-site the box higher up the wall out of arm's reach.
"The blue tits have now become parents and you can clearly hear the babies in the box.
"How nice it is to have such a good outcome from such an unusual choice of nest," she added.
Cigarette nest
Ashtrays do not appear to be such an unusual choice for nesting blue tits.
Pairs have been rearing their young in a similar box outside a Norfolk pub for a number of years running.
The landlord of The Cottage in Thorpe St Andrew, near Norwich, has left the ashtray where it is, but put up a sign asking customers not to use it.
Valerie Osborne from the RSPB said that ashtrays were often chosen because they resembled nesting boxes.
"Blue tits have little or no sense of smell," she said.
"They don't know what the cigarette butts are, and probably think of them as comfy nesting material."