Cambridge researchers' survey vessel rescues yacht crew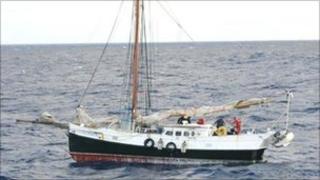 An Antarctic research vessel returning to the UK was called to assist a yacht sinking off the coast of West Africa.
Cambridge-based British Antarctic Survey vessel the RRS James Clark Ross (JCR) rescued four people and a cat on Sunday.
The Ex Africa yacht was sailing in the Cape Verde Islands.
The four crew, with links to Norfolk, Hampshire, Oxford and South Africa, were saved after the survey vessel was alerted by the Moroccan coastguard.
The JCR was at the scene within six hours of being told of the yacht's plight.
'Safe and well'
The yacht sank after the crew were lifted off and they will now stay on board JCR until it returns to Portland, Dorset about 24 May.
Director of British Antarctic Survey, Professor Nicholas Owens, said: "I am delighted that our ship was able to rescue the four-person crew and they are now safe and well.
"It was down to the professionalism of the captain and his crew that we were able to provide assistance and rescue the yacht's crew safely."
Three of the yacht's crew are British. One of them used to live in the New Forest, Hampshire, and another has family in Norwich.
The other crew member has family in Oxford.