Network Rail uses sheep to save money in Cambridgeshire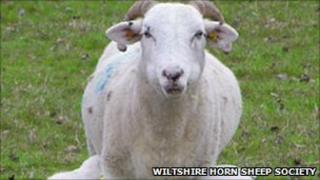 Sheep are being used in place of manpower in a bid to save a rail company £50,000 a year in land management costs.
Network Rail has "borrowed" the flock to graze a railway cutting at Great Stukeley in Cambridgeshire.
The land is a designated Site of Special Scientific Interest (SSSI) and is home to rare plants and orchids.
The sheep's owner assured the company that the animals would clear the scrub without harming other plants.
Russell Spink, from Network Rail, said: "We have a legal responsibility to maintain those areas and it costs us a fair bit of money.
"For a number of years, before Network Rail's time, that maintenance was fairly low-level. It's very overgrown with brambles and thorny bushes which are harmful to the flowers that are protected."
'Very discerning'
Rare plants at the Great Stukeley SSSI include lady's bedstraw, bird's-foot trefoil, hairy violet, cowslip and fairy flax as well as pyramidal orchids.
Network Rail usually employs its own maintenance crews and uses volunteer conservationists to manage its land.
"The sheep are just better at this kind of work than our guys, and running our railway has to be our main focus," said Mr Spink.
"We are very confident that they will leave the protected species alone.
"We're told by the owner that they are very discerning and will only chomp their way through the non-native vegetation and leave the rare orchids so they can bloom."
The 35-hectare (86-acre) site runs along the East Coast Main Line and is fenced off to prevent the sheep from wandering on to the track.
'Everyone's a winner'
Natural England, the organisation responsible for implementing SSSI legislation, administers central government grants to help ensure that wildlife and habitats are protected.
Huntingdonshire District Council will manage the welfare of the sheep and has entered into a Higher Level Stewardship Agreement with Natural England, with permission from Network Rail.
This provides the council with funding to pay for a qualified shepherd and other costs associated with looking after the sheep.
"It's cutting the cost to Network Rail and therefore to the tax payer and the fare payer," said Mr Spink.
"There's no additional cost to the council because it is using funding from Natural England to pay for the sheep. So everyone's a winner."
Network Rail plans to use sheep on some of its other SSSIs if the pilot project in Cambridgeshire is a success.