Lord Jeffrey Archer auctions Olympic torch from 1948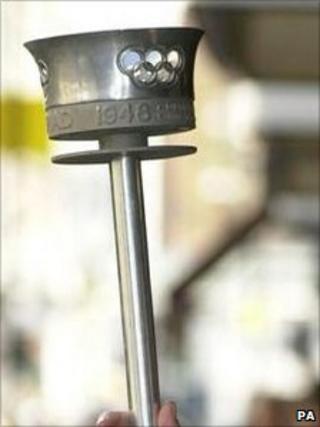 A torch from the 1948 Olympics is being auctioned for charity by its owner, Cambridgeshire-based author and former politician Lord Jeffrey Archer.
It was designed by Ralph Lavers to be inexpensive, well-crafted and suitable for what became known as the "Austerity Games".
Lord Archer said with the 2012 Games approaching, it was "time to put it to good use by raising money for charity".
The auction will be held at Christie's in London on 27 June.
The last time the Olympic Games and a torch relay were held in the UK was in 1948.
They had to be delivered on a post-war budget. Britain was struggling in 1948 and rationing would be in place for another six years.
'Olympic spirit'
Lord Archer purchased the torch about 20 years ago at an auction.
"I've always loved athletics, I ran a little myself, and I love the Olympics. I've been to five Olympics so when [the torch] came up, I couldn't resist it," he said.
However, he also admitted that he had "seen very little of it over the years".
Instead of displaying it in his home, he loaned it to a friend who travels around the UK teaching school children about the "Olympic spirit".
Lord Archer lives just outside Cambridge, which is one of the cities where the 2012 Olympic torch will make an overnight stop on its 70-day tour of the UK.
He described it as "a great sporting area" and added: "I was delighted to hear it was going through Cambridge, and all over the world.
"It's nice as the build-up gets bigger and bigger, that local people will see the torch."
Funds raised from the sale of Lord Archer's 1948 Olympic torch will be donated to the Saracens Sport Foundation charity.