Dry spring threatens summer crops in Cambridgeshire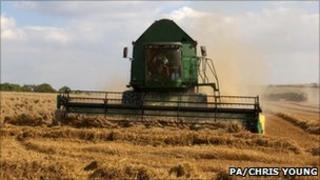 The long dry spring has reduced crop yields in parts Cambridgeshire, some farmers have warned.
Across Cambridgeshire just 0.8mm of rain fell in April compared to the average rainfall of 47mm, resulting in the driest spring since records began.
Many farmers fear the dry weather could end up costing them thousands of pounds in loss of earnings.
"This is going to be the toughest summer we have ever had," said Judith Jacobs, from Moor Farm in Newborough.
Moor Farm is typical of Cambridgeshire's arable farms, growing wheat, barley, oil seed rape, sugar beet and mustard.
Asparagus crop
Mrs Jacob, who runs it with her husband, said: "The wheat is all in flower at the moment. All the ears are showing but there is nothing in the ears.
"They're not going to fill up with anything until we get any rain."
The Jacobs also keep beef and sheep herds and rely on their own silage. They cut 140 bales from their seven-acre grass field 10 years ago.
"This year we cut it and we got 28," she said.
Mike Rudford, from Burwash Manor Farm in Barton, said the dry spell had already cost him £25,000.
This year, he planted 457m of trees and hedgerows.
"What we've already lost in terms of dying trees, the asparagus crop and our undersows is £25,000," he said.
Arable farmers do not expect to irrigate their crops, unlike fruit and vegetable farmers.
"It's an expensive business to get set up in terms of the equipment and the technology," said Paul Hammett, senior National Farmers' Union policy adviser for the east of England.
"And it tends to be used for our higher-value fruit and vegetable farms.
"They've still got water, but they're using up the water they would normally be using much later into June."
'Inflated prices'
John Parish farms 700 acres near Little Thetford.
"We've already sold some of this year's harvest forward," he said. "But prices have since gone up and yields have gone down and if we don't meet those contracts we could... potentially [face] a bill of £20,000."
Tim Murphy, from the Cambridge Chilli Farm, however, is benefiting from the lack of the rain.
"Last year we had no light in March and our plants didn't put any growth on," he said. "This year they've been unstoppable."
Dr Liz Bentley, a member of the Royal Meteorological Society and founder of The Weather Club, said March was also a dry month and it looked like "we will break the May record too".
Dr Bentley blames an unusually long period of high pressure for the dry conditions.
She said there could be rain in June, but by then it will be too late to boost crop yields.
"And that's not good news for the consumer because prices are going to be inflated," added Mrs Jacob.
"The supply is going to be very low and the demand is going to be the same, so the prices will be up."