New move for firecrews and service HQ in Cambridge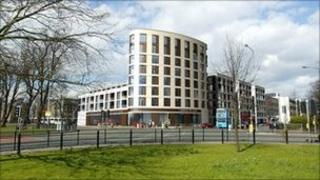 Firefighters in Cambridge are moving out of the station they have occupied since 1965.
Parkside Fire Station is being redeveloped and the service is moving to a temporary, purpose-built site in the east of the city.
The new development includes plans for 99 apartments and affordable housing to be built above the fire station.
Crews will be based at Coldham's Lane until the end of 2012, when the work is expected to be completed.
Graham Stagg, Chief Fire Officer for Cambridgeshire Fire and Rescue Service, said: "The existing fire station is no longer fit for purpose and costs us a significant amount of money in maintenance costs."
The redevelopment is a partnership between the Fire Authority and urban developers, Stofords and Grosvenor.
Mr Stagg said: "We have known for some time now that we needed a new fire station and this is the most cost-effective way for us to deliver a good level of fire cover for the people of Cambridge for many years to come.
"This new development will deliver a state-of-the-art community fire station that local groups and organisations can utilise too."