Hempsals Community Farm scheme set up in Cambridgeshire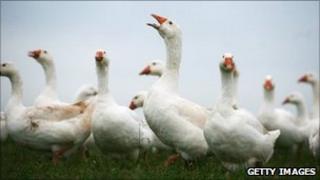 A Community-Supported Agriculture scheme is being set up on a farm in Cambridgeshire.
Ben and Emma Tregenna, who own Hempsals Community Farm near Willingham, are hoping that 20 local families will sign up to help run the mixed farm.
Mr Tregenna said the scheme would allow people to "share both the risks and rewards of farming".
Members will pay one-twentieth of the running costs and in return are guaranteed a share of the produce.
The couple were inspired to start the community farm after hearing about wartime "pig clubs" where neighbours got together to rear a pig to feed their families.
Christmas goose
They began with a smallholding and persuaded six families to join them "for half a pig each".
"That community aspect of it was really infectious," Mr Tregenna said.
He later purchased a dilapidated farmhouse and six acres of land at auction, and started community farming on a larger scale.
Partners in the scheme are encouraged to get involved in planting, weeding, harvesting and looking after the animals.
"People who sign up will get one-twentieth of what we can produce," Mr Tregenna said.
"Everyone has signed up on the basis that they will get at least half a pig, a goose for Christmas and as many eggs as they can manage."