Peterborough Dragon Boat Race on Radio Cambridgeshire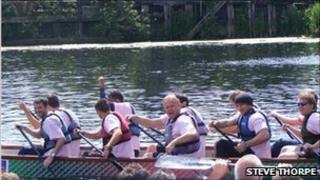 An intrepid team of crack sailors will be taking on the might of 19 teams at the Peterborough Dragon Boat Festival on Sunday 19 June.
Led by Peterborough breakfast show presenter, Paul Stainton, the team will attempt to better last year's "abysmal" performance.
Presenters, producers and newsreaders will help Paul steer the BBC boat precariously down the River Nene.
Mark Rumble will be on air live from the race from 0900 BST on Sunday.
Listen to Mark egging the team on, on 95.7 and 96FM, on DAB and online, for two exciting, exhilarating hours.
'Primed and honed'
Paul Stainton said he was primed and ready for the first race of the day, which takes place at 1030 BST.
"We're in the best physical condition we've ever been in," Mr Stainton announced.
"I could send a photograph to prove it, but I wouldn't want to intimidate the competition in advance.
"I'm waiting to see the fear on their faces when the might of Team Stainton steps up to the boat, flexes its collective muscles and glides past the finish line like a lithe, primed, honed, floating machine."
If you'd like to see that for yourself, join BBC Radio Cambridgeshire on the banks of the River Nene at Tower Bridge this Sunday.