Peterborough council may offer homebuyers cash support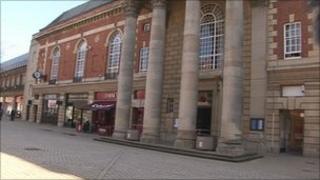 First-time homebuyers in Peterborough could soon be receiving financial help from the city council.
At a cabinet meeting on Monday councillors agreed to set aside £1m for loans under the Local Authority Mortgage Scheme (LMA).
The Conservative leader of the council, Marco Cereste, said: "It's going to be great for the city."
However, Labour councillor Ed Murphy said the scheme would not assist those most in need.
"This is not going to be helping the low-paid and unemployed," said Mr Murphy.
However, he said he would consider supporting the scheme if the council was to work with a mutual instead of "private banks which brought the economy down."
'Unlock the chain'
The LMA has been developed by Sector Treasury Management services, working with Lloyds TSB.
In March, five councils in England said they would pilot the scheme.
However, Peterborough council said it did not want to wait until a pilot is completed.
"I think it's a way to help people in our city get on the housing ladder, get themselves a home, and we should go for it," Mr Cereste said.
The council wants to commit an initial £1m and if it works it will invest a further £9m.
"We'd calculated that we could help probably 400 people," he said. "We are talking about first-time buyers, so it means... you're unlocking the chain in many instances.
"Sometimes there are two or three people in the chain so you could unlock 1,200 house sales."
He also said it would not cost the city's taxpayers.
"We get a decent rate of interest on our money from the banks, and we would need about 10 times the normal amount of defaults for us to start losing money," he said.
Mr Murphy however, would prefer the council to supply its own loans, which has been done in the past.
'More public housing'
"The council should use its powers to support a housing association to build more social housing for rent," he said. "It is still a cautious time for people to be buying housing.
"We need more public housing and jobs."
The average first-time buy house in Peterborough costs around £100,000.
Under the LMA scheme, first-time buyers would have to provide a 5% deposit, the council will indemnify a further 20% and the bank would loan the other 75%.
Cecilia Booth, who came up with the scheme for Sector Treasury Management, said: "The mortgage applicant will only have to find a 5% deposit but will pay back 95% of the loan.
"The indemnity will be in place for five years so it's not for the whole life of the mortgage."
She said Lloyds TSB was the first bank to come on board but others would be joining "very soon".
A final decision on whether to go ahead with the scheme will be taken at a full council meeting in July.