'Gypsy King' election takes place in Peterborough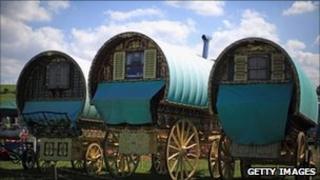 Voting is taking place in Peterborough in what is believed the be the first Gypsy King election in the UK.
Organiser Roman Cicko said the UK king would be expected to ensure that Gypsy communities, police and councils worked closely together.
"He must be a respectable man and will encourage education," Mr Cicko said.
There are 19 candidates from across the country running for the position, and votes will be counted on 25 June at Peterborough Town Hall.
Mr Cicko, a Slovakian Gypsy who moved to the city more than a decade ago, said it was usual for Roma communities in Eastern Europe to elect kings.
"This is the first time in the UK, though," he said. "There are maybe five different Gypsy groups in this country and we're trying to bring all of them together under one Gypsy 'council'."
'Gypsy tradition'
He said Peterborough was the ideal place for the election as it was easily accessible, and already had a large Gypsy community.
He likened the vote to elections for local councillors, with a committee being appointed to help the king with his community duties.
Three of the 19 candidates come from Peterborough's own Gypsy community.
Following the count, the king will travel to a celebration event by limousine.
The elected king will have a crown and "gold sticks", Mr Cicko explained.
"You have to have a crown because this is Gypsy tradition.
"Maybe 50 years ago they used to fight for the title. Whoever is the strongest is th e king, but not now. Now it's a democracy."