Bishop of Ely says troops must finish Afghanistan job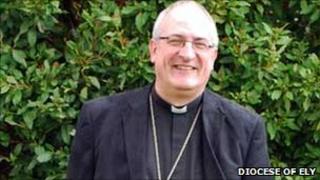 British troops should stay in Afghanistan "until the job is done", the Bishop of Ely, the Right Reverend Stephen Conway, claims.
He was speaking at a service for the Cambridgeshire and Royal Anglian Regiment Associations at Ely Cathedral.
Bishop Conway's former diocese included Wootton Bassett, and he said experiencing so many repatriations had influenced his thoughts.
The bishop maintained his comments did not constitute a political standpoint.
However, he said troops should not be withdrawn until a genuine rule of law returns.
His comments came as both the US and UK governments consider plans for withdrawing some troops from Afghanistan.
The prime minister has said that more than 400 British troops would be coming out of Afghanistan in the coming year, and President Obama announced that withdrawal of American troops would begin in July.
Bishop Conway said: "Speaking to members of the Royal Anglian Regiment Association, and especially Cambridgeshire elements of it, I was trying to reflect on what it means to commit our young service personnel to the theatre of war.
"I do believe that what we've committed them to, is trying to bring peace and order to what is a very, very difficult situation in Afghanistan."
He talked about the "distressing number" of personnel who had given their lives in the country.
"I was concerned about how we respect what they have given," he said.
He added he wanted their legacy to be "a proper restoration of the rule in law, where, for example, boys and girls could freely attend school".
'Respect and honour'
During his time at Wootton Bassett, Bishop Conway said he had seen families going through both "unremitting grief" as well as "immense pride" in the sacrifice made by their son or daughter.
"We need to respect and honour that very deeply," he said.
"It is incumbent on faith leaders to speak out - not to make any party political comment - that's not our business.
"But I think that it's really important that we are free to speak about issues that really count for all of us."