Duke begins £10m Peterborough Cathedral campaign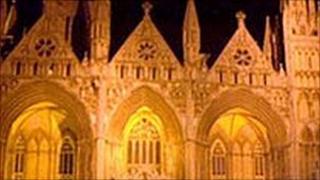 The Duke of Gloucester has begun Peterborough Cathedral's campaign to raise £10m.
The duke is Royal Patron of the Peterborough Cathedral Development Trust which hopes to raise the money over the next seven years.
The building celebrates its 900th anniversary in 2018.
The money will be spent on four projects, including The Heritage and Education centre and The Cathedral and Community Music Centre.
Part of the £10m will be spent on the 'Sacred Place and Public Space' project which involves using the cathedral for concerts, exhibitions and other events.
The rest will be spent on sustaining Millennium projects.
Speaking at the launch, the Very Revd Charles Taylor, Dean of Peterborough, said: "Thanks to the generosity of many, the cathedral stands in good order.
"As a result, we are able to plan for Peterborough 900 so as to develop and extend our mission and ministry to the benefit of the city of Peterborough, for which the cathedral stands as the primary icon, and to the communities embraced by the diocese."