Duke of Edinburgh stands down as university chancellor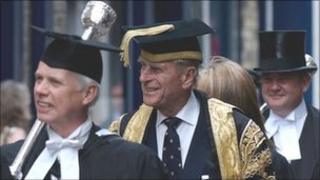 The Duke of Edinburgh has stood down as chancellor of the University of Cambridge after 34 years in the role.
His decision came in the year he turned 90 and told the BBC he was "winding down" his involvement with a number of organisations and charities.
Vice-chancellor of the university, Professor Sir Leszek Borysiewicz, paid tribute to the duke.
He said: "This will be seen by us as a very personal loss in addition to being a very hard act to follow."
He described the duke as a "brilliant chancellor for the University of Cambridge".
"I don't think there's a part of the university that he hasn't visited, so he really has been a very active and very engaged chancellor," Sir Borysiewicz explained.
'Strong views'
He added that the Duke of Edinburgh was more than a "figurehead" for the institution.
"He is an important arbiter of any significant issues that arise in the colleges."
"And there's a wonderful side to him," said Sir Borysiewicz.
"For example, I've had the privilege of visiting may parts of the university with him, and not only does he engage very fully with the people who are lined up to meet him, but also he will interact with a student or another staff member.
"I can tell you there has been many a gardener or a cleaner who happens to be standing around or doing his job, and the duke will just walk up and say 'so what is it you do?' much to the consternation of the individual concerned.
"I like him, personally, very much. He speaks very clearly and he can be very clear in views that he wishes to express."
The election of a new chancellor of the University of Cambridge will take place in October.
There are three candidates in addition to the nomination board's candidate, Lord Sainsbury of Turville, an alumnus of King's College.
They are the actor, Brian Blessed, Cambridge grocery store owner, Abdul Arain, and Michael Mansfield, QC.