Cambridge reveals purpose-built swift tower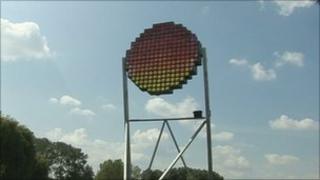 A purpose-built swift tower has been erected in Cambridge in a bid to halt the bird's decline.
Its artist, Andrew Merritt, worked with ecologists and swift experts to combine art with a home for up to 100 pairs of swifts.
The tower has been built at Logan's Meadow Local Nature Reserve, as part of a wetland habitat creation plan.
It was funded by money given by developers to Cambridge City Council for public art.
Rod Cantrill, executive councillor for arts sports and public places, said: "I hope it raises awareness on the loss of nesting sites, and prompts people to think about how they can help in their homes and places of work."
Dick Newell from Action for Swifts said: "I think this project is a major milestone in our campaign to do something about declining swifts."
'Sign of summer'
Each year the bird's population reduces by 3% because suitable nest sites are in decline.
Swifts nest almost exclusively in older buildings, but as they are knocked down or renovated they can no longer be used by the birds.
They only come to the UK to breed, arriving in mid-May and staying until late July when they return to Africa.
Mr Newell said: "The sight of swifts is the sign of summer in the UK.
"If we are to halt the decline of swifts we will need to renovate every nest that is lost by some deliberately created structure, whether it's nest boxes on people's houses or it's nesting sites built into new developments."
Since the middle of June the structure, which is designed to look like the African sun, has been playing swift song to attract young birds to the nests.