Jabberwocky-inspired garden wins Silver Gilt at Hampton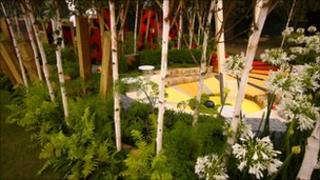 A garden inspired by a poem has won a Silver Gilt medal at the RHS Hampton Court Palace Flower Show for a Cambridgeshire designer.
Bill Butterworth designed the garden for the London children's charity Kids Company.
It is based on the end of Lewis Caroll's Jabberwocky poem, when the hero faces his fears and defeats a monster.
Mr Butterworth's company is in Cambourne, south Cambridgeshire.
"We're very pleased with the medal," he said. "But the kids are just a little bit miffed that they didn't get gold because they think they deserve it."
The garden is laid out as a coiled Jabberwocky monster.
Its ribs become the slats of a xylophone while the vorpal sword - used by the hero to slay the beast - becomes a giant wind harp.
Therapeutic play
Kids Company was founded by Camila Batmanghelidjh in 1996.
It provides practical, emotional and educational support to vulnerable inner-city children and reaches 14,000 children in London.
Mr Butterworth's garden will form the final part of an extended therapeutic play space for the charity in south London
He said: "The garden, because of the change of level and the embrace of a box hedge and birch trees behind, actually gives a sense of enclosure.
"You can visualise traumatised children sitting down there with this landscape wrapped around them, giving them an embrace."