Lorry routes assessed in Cambridgeshire villages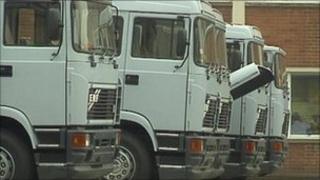 Residents of four Cambridgeshire villages are taking part in a trial to assess the most suitable routes for heavy commercial vehicles (HCVs).
Great Wilbraham, Little Wilbraham, Sutton and Earith will be the focus of the county council scheme.
The assessment will take into account traffic flow, environmental impact and the needs of haulage firms.
If the pilot scheme is successful, the council intends to adopt it for use in other villages on HCV routes.
In 2010, the county council published an advisory route map which, together with signage, was designed to "inform and influence" vehicle movements.
However, Richard Preston, head of road safety and parking services at Cambridgeshire County Council, admitted that "further regulations would need to be introduced" in order to enforce the routes.
'Appropriate controls'
"In an ideal world the lorries would all stick to [the advisory route map], but unfortunately that's not the way it is and we have a number of lorry issues in villages that need to be addressed," he said.
"What we're advocating is that we bring the haulage industry together with local communities to analyse the problem and make sure we understand what's going on before we consider whether any controls are appropriate."
He added that restricting lorry routes through certain villages was likely to result in the vehicles finding alternative routes through other villages.
The trial, which forms part of the county council's heavy commercial vehicle (HCV) management strategy, will begin in the autumn.