Cambridge's 20mph speed trial produces mixed results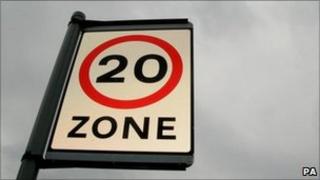 Some motorists driving through 20mph speed trial areas in Cambridge went faster than when the zones were 30mph, a council study found.
The trials began in August last year and include city centre roads such as Jesus Lane and residential streets such as Wulfstan Way.
Monitoring by Cambridgeshire County Council revealed an increase in speed at many of the locations.
Residents are calling for better signage and more police enforcement.
City councillor Amanda Taylor said residents in her ward, Queen Edith, wanted the trial to become permanent.
She said: "We need some more help from the county council in terms of signage on the road, and secondly we're asking the police for some support because there's been no enforcement of the 20mph zone."
Steve Kerridge, Cambridge city sector commander for Cambridgeshire police, said a change from 30mph to 20mph was accompanied by "significant changes" to the roads including road calming measures, which made them self-enforcing.
He said: "Obviously that costs a significant amount of money, so we're entering a new realm now in looking at enforcement from a policing perspective. We can't physically enforce speed limits within every area. We look at the areas with greatest risk."
He said enforcing the 20mph limit was now a priority for police.
Richard Preston, head of road safety and parking services at Cambridgeshire County Council, acknowledged that residents also wanted better and clearer signs in the 20mph zones.
He said: "But I think we have to recognise traffic calming is expensive. Resources are stretched at the present time.
"I think there is a culture of change here that drivers will need to reflect on. It's going to take many years for people to accept that within those residential areas that there is an expectation that drivers will drive at much lower limits."