Charity recycles £1m of medical supplies over one year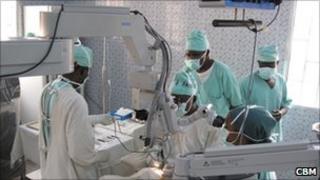 Unwanted medical equipment estimated to be worth more than £1m has been sent from the UK to overseas projects by a Cambridge charity during the last year.
CBM UK, an overseas disability charity, sources and transports surgical supplies no longer needed by hospitals in the UK.
In partnership with Aid to Hospitals Worldwide (A2HW), the equipment is refurbished before shipping.
Much of the equipment is used by CBM's own doctors working in Africa and Asia.
CBM has worked with Suffolk-based A2HW since beginning its Gifts in Kind campaign in 2010.
National director of CBM UK, Dr Bill McAllister, described the scheme as "in effect a gift to the people overseas from the people of the UK".
In the last financial year, CBM has sent 11 shipments of equipment including hydraulic beds, ophthalmoscopes, slit lamps, anaesthetic machines, and X-ray and operating theatre equipment to some of the world's poorest countries.