Swan dubbed 'Mr Asbo' is moved for Cambridge rowers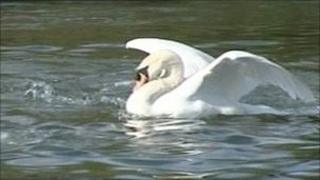 Plans have been made to temporarily move an aggressive swan, his mate and their three cygnets, to protect river users during a Cambridge rowing race.
The swan, locally dubbed Mr Asbo, has reportedly attacked boaters on the River Cam on a number of occasions.
During the Town Bumps rowing races, river managers plan to lure the family to a quieter stretch of water.
The Cam Conservators hope the swan will follow their motor boat, which will be sent out ahead of each race.
The male swan's aggression towards river users was first reported in 2009.
Calls for his removal from the busy River Cam were rejected when the swan and his mate began nesting earlier this year.
'Marshalling swans'
There are concerns that the swan may view the large number of rowers taking part in the races as a threat to his cygnets, and might once again resort to chasing the boats.
The RSPCA said that it was common for swans to display aggressive behaviour if they believed their young to be in danger.
The Cam Conservators believe that leading the family of swans away from the rowing races will protect both parties.
River manager Dr Philippa Noon said: "A patrol boat will be on hand to marshal the swans into suitable areas away from the rowing race course."
A local resident has agreed to keep the swan family contained in his garden during the races which take place over four evenings.