Cyclist injured on Cambridgeshire guided busway track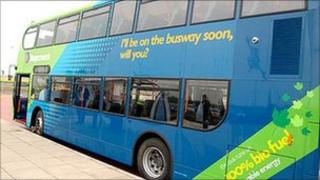 People are again being warned to stay off Cambridgeshire's guided busway tracks after a cyclist was injured.
It is believed the rider slipped when he tried to dismount to avoid a bus which was testing the route before it opens in August.
Paramedics were called and the man was taken to Addenbrooke's Hospital with a suspected broken leg.
A bus company spokesman said the driver blew the horn and slowed down "before the wheels reached the individual".
Andy Campbell, managing director of Stagecoach, one of two companies that will run buses along the route, said: "The driver noticed a cyclist on the other part of the track rather than the cycle path itself.
"He blew the horn on three separate occasions and on the last occasion the cyclist decided to stop and get off the bike.
"Unfortunately he put his foot down on top of the concrete section that the bus was travelling in. He then slipped off the concrete and fell into the path of the bus."
'Warning signs'
He added that drivers had stopped to warn people not to use the busway on a number of occasions but that "the same individuals are still doing it".
"What you've got to remember is that we are now training at speeds of up to 56mph (90kph)," he said.
A Cambridgeshire County Council spokesman said: "As we have been constantly reminding residents, no one should be on any part of the route until the busway opens on 7 August.
"Needless to say we hope the cyclist recovers quickly and would strongly urge people to take note of warning signs and messages on our website, and in the media, telling people not to venture on to the construction site."