Grain store's expansion plans approved for Cambridgeshire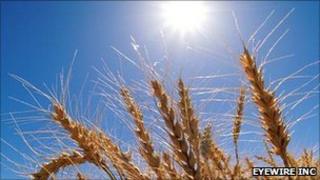 One of the UK's largest grain storage companies has been given permission to expand its Cambridgeshire facility.
Camgrain, which stores grain from farms across the county and parts of East Anglia, applied to increase storage at its site near Great Wilbraham.
The farmers' co-operative currently stores 90,000 tonnes of grain per year.
Delegated approval was granted by South Cambridgeshire District Council allowing the site to store a further 210,000 tonnes of grain.
The council's economic development portfolio holder, Nick Wright, described the decision to approve Camgrain's application as "very good news for agriculture in this district".
Meeting standards
"There was a real need for this expansion," he said.
"Farming is a business that's feeding the nation. We have to supply wheat when wheat is in short supply, and it has to be of the highest quality.
"This will give farmers the opportunity to compete with the rest of Europe."
Tenant farmer and director of Camgrain, Colin Barker, said: "A lot of grain that is produced is stored in old silos probably built in the 70s and 80s, many of which have reached the end of their productive lives and no longer comply with the latest food regulation standards.
"Here we store the grain in the most amazing conditions. Everything is computer-controlled with machinery that can separate out single grains that don't conform to those standards."
He added that expansion of the site would take "several years to complete".