Makeover plans for Peterborough city centre streets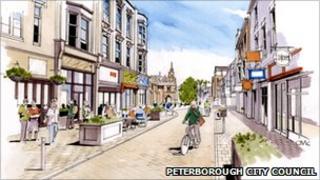 Traditional shop fronts and wider pavements are two of the regeneration ideas included in plans to develop streets in Peterborough city centre.
The city council has liaised with English Heritage and shop owners to draw up the proposals.
Cowgate, King Street and Long Causeway are all included in the next phase of the redevelopment of city centre.
The proposed changes are going on display at St John's Church, Church Street, on Thursday and Friday.
City council planners and engineers will be available to answer questions.
Pedestrian-friendly
Over the past few years, Peterborough City Council has been regenerating the city centre.
Councillor Janet Goodwin, the city council's cabinet advisor to the leader, said: "Now the large-scale regeneration of Cathedral Square and creation of St John's Square is complete we want to improve other areas of the city centre."
The city's main shopping district still follows a town plan laid out by a 12th Century abbot.
Cowgate and King Street are set to have the greatest investment. As well as the introduction of traditionally-styled shop fronts, historic buildings will be repaired and it will become more pedestrian-friendly.
John Drewnicki, chairman of the Cowgate Traders Association, said: "We have been working very closely with the council over the past few months to prepare a scheme that can really improve the appearance of Cowgate and lead to regular street markets and entertainment events in King Street."