Views sought on Addenbrooke's multi-storey car park plan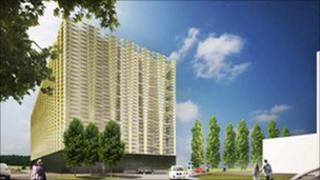 A hospital in Cambridge has revealed its plans for a 1,228-space car park over nine levels.
An exhibition has been set up at Addenbrooke's Hospital so the public can give their views on the plans.
The multi-storey car park is part of plans for a bigger development called the Cambridge Biomedical Campus (CBC).
The car park would face the Addenbrooke's Treatment Centre and would be reached via Robinson Way. If approved, work would start in 2012.
The car park would also serve the UK's main heart and lung transplant centre, Papworth Hospital, when it relocates to the campus from its current location at Papworth Everard between Cambridge and St Neots.
The hospital will join Addenbrooke's and the maternity hospital The Rosie on the same site.
There are also plans for a new children's hospital and a private hospital there.
The public consultation on the plans, which will be considered by Cambridge City Council, runs until 1 August.
This would be the third multi-storey on the Addenbrooke's site and a hospital spokesman said with the plans for future expansion it would not be the last.