Cambridgeshire vicar to visit all parish homes during August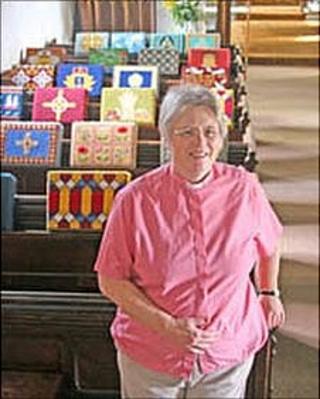 The Rev Annette Reed is not going on a holiday this August.
Instead she has pledged to spend the month knocking on the doors of every home in Little Paxton, her Cambridgeshire parish.
The aim of the challenge is to raise awareness of, and funds for, St James' Church for Tomorrow Project (CHUFT).
To visit every one of the 1,600-odd homes she has had to apply for a licence from Huntingdonshire District Council.
Ms Reed said: "We hope that people may like to make a donation to CHUFT when they see me, and for that you need a licence."
But is house visiting not a key part of the job description of any member of the clergy?
"In the good old days, when a priest looked after perhaps a very small village community, they had a lot more time than modern priests do to go and knock on doors and sit and chat to people," said Ms Reed.
"I think it's a lovely thing to do, but with all the pressures we've got with more than one parish, we just can't do it."
CHUFT
St James' Church is currently raising funds for work on its tower, bell and clock.
To do so it has received grants from many organisations, including the Big Lottery Fund, the Cambridgeshire Historic Churches Trust and Little Paxton Parish Council.
In addition, Ms Reed explained, parishioners have been asked to "do something challenging" to help raise funds.
She said: "I just woke up one morning and thought, 'Why don't I knock on every door in the village?'.
"I've never done it, it's a bit of a challenge, and it will help me to get to know some of our parishioners and our village a bit better."
The work to restore the church is already under way and should be completed by November.