Cambridgeshire library service plans 'dynamic ways' to save money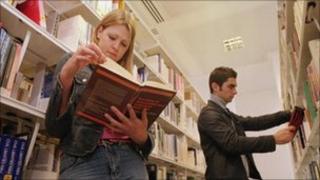 "Dynamic ways of delivering services" could help to save threatened libraries in Cambridgeshire, according to the county council.
As part of its review of the service the council is considering introducing online borrowing, e-books and vending machines in some locations.
Savings of £3.2m need to be made over a five-year period and the future of 13 libraries is being reviewed.
"Self-service" options could contribute to these savings, the council believes.
Conservative councillor David Harty, cabinet member for learning and libraries, said that "a 21st Century library service [would] suit the varied needs of communities".
A public consultation on the future of some of the county's libraries took place in 2010. The council has reviewed the results and intends to put forward a new plan for the service in September.
In order to make savings, a number of libraries are being given the option to run their own facilities on a voluntary basis.
The council is also considering combining libraries with post offices in rural areas, opening the buildings up for school and community use, and basing police surgeries in libraries.
"Our ideas will mean services in the future will be accessed by communities in more places, at more times and in more ways," said Mr Harty.
He added that the introduction of library vending machines in bus and railway stations had proved successful in both the US and Australia, and the council was investigating that as an option.
It has, however, pledged that as a result of the review "no community will lose access to library services, but changes may be made in the way they are currently delivered".