Peterborough bids for government's £3bn 'green bank'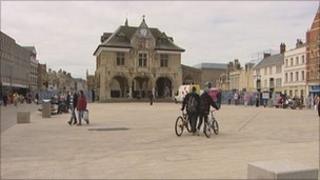 Peterborough has submitted a bid to host the government's new Green Investment Bank.
The national bank is being set up with £3bn of public money to help firms fund renewable energy schemes.
Peterborough will be competing against other cities, including Bristol, Manchester and Edinburgh.
Opportunity Peterborough, which submitted the bid, said success would be "catalytic" for the city's growth.
The "green bank" will become the world's first public bank dedicated to the green economy.
Neil Darwin is the director of economic development at Opportunity Peterborough, a not-for-profit organisation, which works in partnership with Peterborough City Council to encourage sustainable development in the city.
He said: "We are aware that the government wishes to establish the bank in a city with a strong financial sector and an innovative environmental sector.
"On both issues Peterborough performs strongly.
"We face competition from a number of other cities, many of the country's biggest, but with our sector strengths, strategic location and city-wide enthusiasm, we can offer a cost-effective solution."
He added that siting the bank in the city could potentially create up to 100 new jobs there, with "a significant number of indirect jobs" created as a result of new investors coming to the city "to do deals with the bank".
The Department for Business, Innovation and Skills will compare all submitted bids and the Deputy Prime Minister Nick Clegg said the bank would begin operating from April 2012.