Eel catcher's workshop recreated at Wicken Fen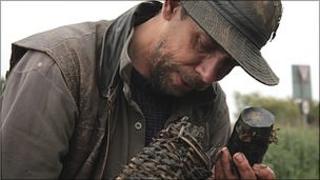 An eel catcher is helping the National Trust to preserve traditional Fenland occupations.
Peter Carter fishes at Outwell in Cambridgeshire, and is believed to be one of the last commercial, traditional eel catchers in the country.
He has been asked to help Wicken Fen Nature Reserve create a workshop filled with eel catching and reed-cutting equipment.
Mr Carter's family has been catching eels in the Fens for over 500 years.
Baited willow traps have been used to catch eels in Fen waterways for thousands of years and Mr Carter keeps the tradition alive by weaving and setting his own traps.
He then sells the eels to the public from his workshop, but also has clients who purchase them for smokeries, and a merchant who regularly travels from London to take his eels for jellying.
Punt gun
However, Mr Carter admits that there are few commercial gains to be made by refusing to use nets to catch the fish.
"You can't make money out of catching eels this way," he said. "You've got to do other things to supplement it."
His own workshop is open to the public where he makes and sells nets for fishermen and the football goals, mole and mink traps, and other willow products.
"I do a lot of trapping and then there's the waterfowl season, too, so that all helps," he said.
Mr Carter owns a punt gun, a canon-like weapon mounted on a punt and used by 19th Century waterfowl hunters.
"The best I got using that was about 70 birds with one shot. You can get that many if you get it right. And then the boat goes back about 20 yards (18m) because it's so powerful and heavy."
'Family secrets'
The National Trust will rely on Mr Carter's knowledge to equip the eel catcher's workshop which it plans to build at Fen Cottage, in the grounds of the Wicken Fen reserve.
It hopes to acquire enough reclaimed timbers and roofing materials to ensure the building is faithful to original Fen workplaces of the 18th, 19th and 20th Centuries.
However, it will be the job of Mr Carter to make all of the equipment that will be on display, and help with explanations about how each piece was used.
"You can't buy this stuff, you see," said Mr Carter.
"It's all handed down through families, so it's something that you have to learn how to make."
However, there is one piece of information that Mr Carter says he will not be sharing.
"How you make a willow trap for eels and how it works - well, that's a secret, you see."
"You learn it from your family, and Fen families keep it within their families," Mr Carter explained.
"You never share that information - and that's why the traditional ways are dying out - because the young people don't want to carry on with the trade."
Mr Carter has a teenage daughter but is unsure whether she will take over the family tradition.
"She doesn't know what she wants to do but she does come out with me a lot, so she knows how it all works."
Mr Carter says that he plans to write a book to ensure that his daughter knows all of the secrets of a Fenland eel catcher.
"I will leave that to her," he said. "And then she can decide what to do with the information.
"But I've got a good 30 years left yet," he laughed. "I'm not planning on going anywhere for a while yet."