Fire at Cambridge paper recycling centre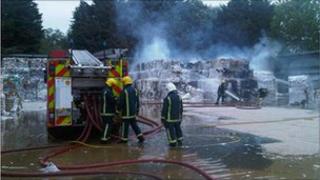 A fire has taken hold at a paper recycling centre in Cambridge.
Fire crews have brought the blaze under control after it started in paper bales and spread to around 150 tonnes of material at SCA Recycling, Mercers Row.
No-one has been injured and the centre is still accepting deliveries as the fire, which started at 09:10 BST, is in an isolated part of the site.
SCA director, Steve Smith said: "The fire's under control and now they just have to break the bales down."
Mr Smith said that could take some time.