Cambridge's famous bakery Fitzbillies to reopen in August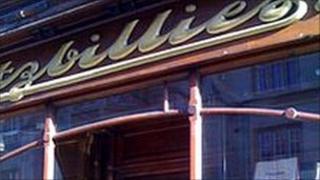 A cake shop described by an independent traders' organisation as "part of the DNA of Cambridge for 90 years" is reopening after a six-month closure.
Fitzbillies went into administration in February with the loss of 25 jobs.
Famed for its Chelsea buns, the shop, which opened in the city in 1922, counted Stephen Fry among its fans.
Husband and wife team Alison Wright and Tim Hayward moved from London to take over the business which will officially open at the end of August.
The £100,000 facelift to the Georgian building includes a new coffee bar and expanded restaurant but the owners have decided to keep "the 1922 vintage front" intact.
The closure of Fitzbillies was much publicised with Stephen Fry adding his disappointment at the decision on Twitter.
Professional baker Alison Wright said: "Since people heard we were going to open again, we've had thousands of tweets saying that we must continue to do the Chelsea buns, sausage rolls, fondant frogs and chocolate mice, but of course we will be adding some new products of our own."